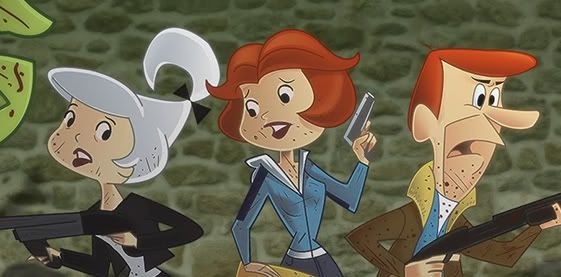 There is a lot of theory and concepts place into today's piece. I'm proud of it because its not just so-n-so cartoon with zombies. The concept was a play on the fact that a couple of decades ago people would fantasize about a very bright and chrome future, with flying cars and robot servants. And this is how and why the Jetson's were born.
A family living in the space age. Technically we're living in their time now, as we all know the future isn't as advance as we would hope. Which leads me into my point, if you look at all the future movies, instead of this 1960's bright future we see a lot of fantasy futures being post apocalyptic filled with killer robots and zombies. Death and grim, is what the future looks.
I guess in a way this is my commentary on society and our ever growing grim outlook on life. Maybe we are growing more self aware of our self destructive nature? Any ways the idea remains the same, putting yesterday's family of the future in the new tomorrow.
Take a look at the Jetsons. I did research for their outfits, because I didn't want them to be in future garb. You may notice that their outfits are all based off different outfits from different movies.
George
is dressed like the
sheriff from The Walking Dead
.
Judy
is
Wichita from Zombieland
.
Jane
is the girlfriend from
Shaun of the Dead
. And
Elroy
is some
kid from 28 weeks later
.
And made an advertising signature for the forums I surf;